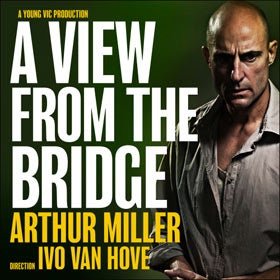 Call :phone to book directly from the theatre or Subscribe
A View From The Bridge
A View from the Bridge is a twentieth century classic of a play by American playwright Arthur Miller, with a chequered past. It was first staged in 1955 as a single act drama in verse at Broadway's Coronet theatre but it bombed. Miller refused to give up on it and re-worked the piece into two acts, the version with which we're familiar today. It worked beautifully, delighting audiences at the New Watergate theatre club in London in 1956.
The play is set in a New York Italian neighbourhood during the 1950s, near the famous Brooklyn Bridge. There's a chorus, very like an ancient Greek play, plus the narrator Alfieri. The story goes like this: Eddie is disturbed to discover his feelings for his young niece Catherine are verging on obsession... but he can't stop.
When Catherine and Adolpho show signs of being attracted to each other, all hell lets loose. It's an emotional rollercoaster with a tragic ending, apparently inspired by a tale the playwright heard from a lawyer who worked with docklands longshoremen and insisted it was a true story. Whatever its origins it's truly dramatic stuff, passionate and disturbing.